Mykonos has been a mainstay of party island antics in the Mediterranean for quite some time, with a reputation that exceeds its modest size. If you're looking to bathe in luxury and dance the night away, Mykonos is where you want to be, as it has everything in abundance, including stunning properties, like AGL Luxury villas in Mykonos. Villa holidays in Mykonos don't get any better than this.
The villas offered by AGL Luxury Villas are designed to provide guests with a luxurious and comfortable stay on the island. Each villa is uniquely designed and decorated and features all of the amenities one could need for relaxing villa holidays in Mykonos. You'll find private pools and outdoor dining areas, fully-equipped kitchens as well as spacious living areas. These villas are ideal for families, groups of friends, or couples looking for a romantic retreat.
Location, location, location –

If you thought your private villa holidays in Mykonos would take place somewhere remote and hard to get to, then think again. Our luxury private villa complex is strategically located on the cliff overlooking the gorgeous seaside area of Agios Lazaros, just 5 km away from the center of Mykonos town. Wake up to astonishing sea visuals every day, and raise your glasses to the fiery sunset-strewn skies every evening.
As such, AGL Luxury Villas have created the perfect recipe for quintessential villa holidays in Mykonos, each with its own unique charm and based on a range of capacities to accommodate guests. Browse through all our options for staying at the best luxury villas in Mykonos, or check below for a short list based on occupancies.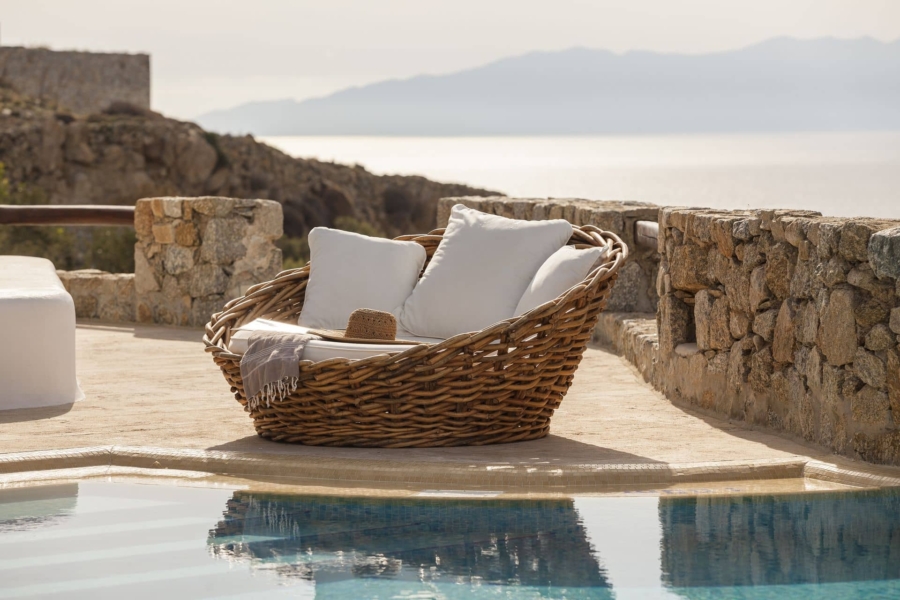 Six-person villa holidays in Mykonos
If you're a group of six looking to get the most out of your villa experience in Mykonos, look out for the following properties: Villa Daphne, Villa Apollonia and Villa Elpida. These villas are suited for small families or groups of friends looking for a private and comfortable villa holiday in Mykonos with a luxury wrap. All of them have two bedrooms, each with its en-suite bathroom, as well as an ample living area with a fully-equipped kitchen, dining area, and lounge. And since Greece is best lived al fresco you'll be glad to know that the outdoor spaces include a private pool, a barbecue area and an outdoor dining area.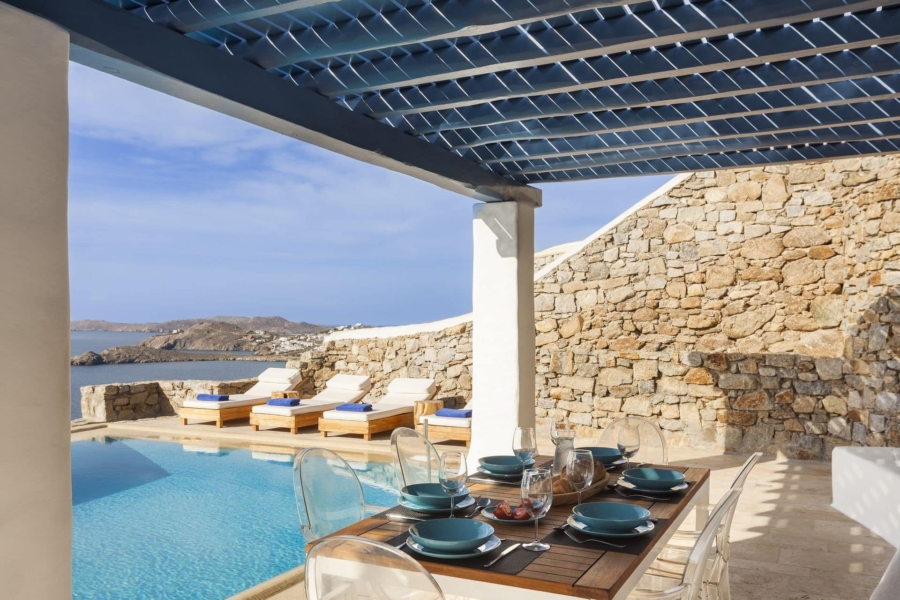 Ten-person villa holidays in Mykonos
The 10-person capacity villas offered by AGL Luxury Villas is perfect for larger groups and families, and here you can pick Villas Aphrodite, Poseidonia, Pinto and Ambrosia. They all have five bedrooms with their en-suite bathroom, as well as a large living area that comes with a  kitchen, lounge and dining area. If you want to be outside then the outdoor space with its large private pool, barbecue, and outdoor dining area should be ideal for your needs.
Sixteen-person villa holidays in Mykonos
Finally, the 16-person capacity Villa Olympia offered by AGL is superb for large groups or multiple families traveling together. It boasts eight bedrooms, all with an en-suite bathroom, not to mention a spacious living area with a fully-equipped kitchen, dining area, and lounge. Splash around a large private pool, prepare a barbecue feast, and take advantage of the outdoor dining area to host your family and friends.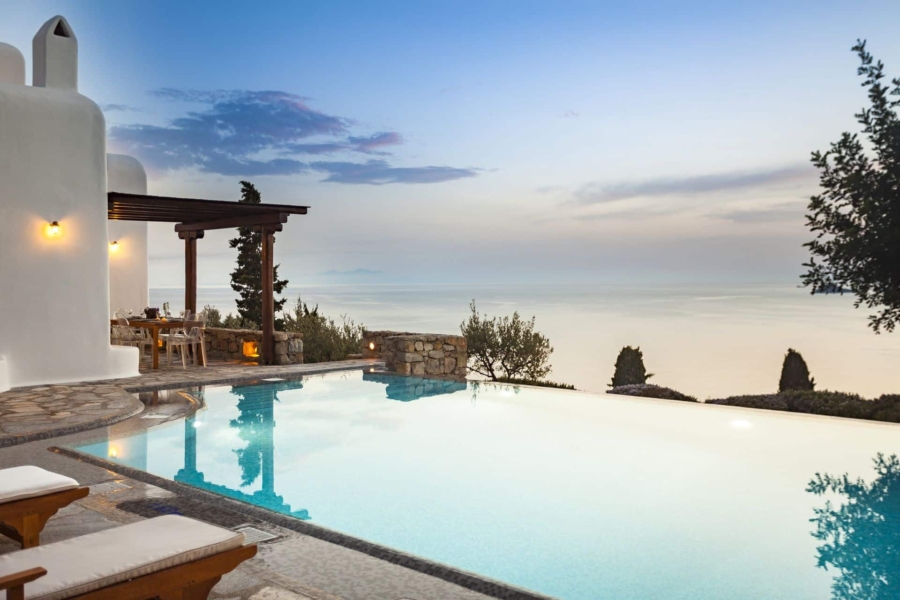 Absolute privacy & autonomy coupled with exclusive services 
One of the main draws of securing your next villa holidays in Mykonos with AGL Villas is the level of privacy and autonomy that they offer. Whereas most hotels can seem like a haphazard collection of people all sharing the same venue, AGL maintains a level of privacy that is priceless for groups especially. If you value absolute privacy over frivolous mingling with strangers, AGL Villas is for you. However, at AGL villas we go one step further, knowing that the difference between a good and a great villa holiday in Mykonos is found in the details.
For starters, the villas are fully equipped with all of the amenities that one could need for a comfortable and enjoyable stay, by default including high-speed Wi-Fi, air conditioning and entertainment systems. Then there is the level of customization that is available. Note that all our villas can be customized to meet the specific needs of each guest group, from arranging for a private chef, organizing transportation to and from the airport, or booking excursions and activities to explore the destination and make reservations on your behalf at the island's various restaurants, beaches, clubs and more.
So, if you've been seeking the most quintessential villa holidays in Mykonos,  AGL has you covered.