Mykonos is one of the most popular destinations in the world, attracting millions of tourists every year to its crystal-clear waters and sandy beaches. It is the perfect place for those seeking a luxurious vacation experience, and when it comes to luxury, AGL Luxury Villas in Mykonos is one of the best choices available. AGL Luxury Villas is a collection of luxurious villas, each with a unique style and character. Located in an exclusive area of Mykonos yet tucked away from the crowds, the villas offer breathtaking views of the Aegean Sea, along with modern amenities and exceptional service.
AGL Luxury Villas are a private 10-villa estate that specializes in providing guests with the ultimate luxury vacation experience, with a range of villas to suit every need. Whether you are travelling with your big family or your extended family of friends, AGL Luxury Villas has something great to offer you. So if you're after a Greek summer full of happy memories, read on and we'll let you in on some of the best villas in Mykonos for large groups that embody quintessential Mykonian holidaying.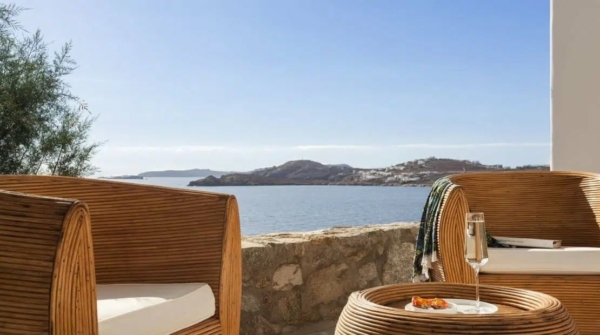 Best villas in Mykonos for large groups:
16-person Villa Olympia
Villa Olympia is one of the flagship properties of AGL Luxury Villas and the largest villa in the complex. This stunning 16 person-capacity villa is located in the tranquil area of Agios Lazaros, yet is just a few minutes drive from Mykonos town, boasting breathtaking views of the Aegean Sea and the neighboring islands, making it the perfect place to relax and unwind.
This expansive villa property is split across three levels for really taking advantage of the stunning landscape it is nestled in. You will find eight well-appointed and elegantly decorated bedrooms spread across these three levels, six of which have their own en-suite bathroom.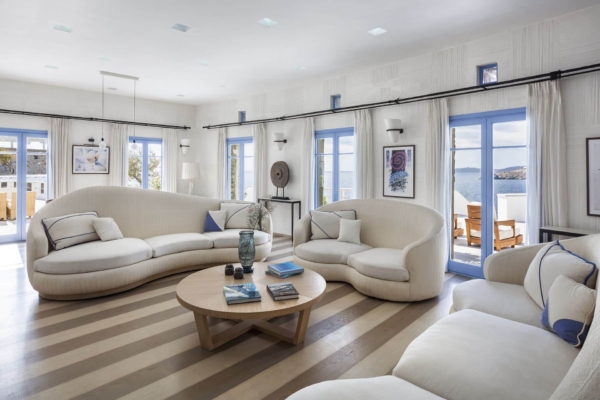 The villa's living area is equally impressive, with a spacious open-plan layout that includes a fully equipped kitchen, dining area, and comfortable seating area that is designed to take full advantage of the villa's stunning views, with large windows and sliding doors that lead out to the villa's expansive terrace.
The terrace is undoubtedly one of the villa's standout features, spanning the entire length of the villa and equipped with comfortable outdoor furniture for endless moments of soaking up the sun. Meanwhile, the terrace features an astonishing infinity pool, which seems to blend seamlessly with the Aegean Sea beyond, providing guests with an unforgettable swimming experience that feeds the soul.
What's more, Villa Olympia also has a range of amenities to keep guests entertained throughout their stay, including a gym, sauna, and cinema room, as well as an outdoor barbecue area and a bar. The villa's dedicated staff is committed to ensuring that guests have everything they need, from daily housekeeping to in-villa catering and concierge services.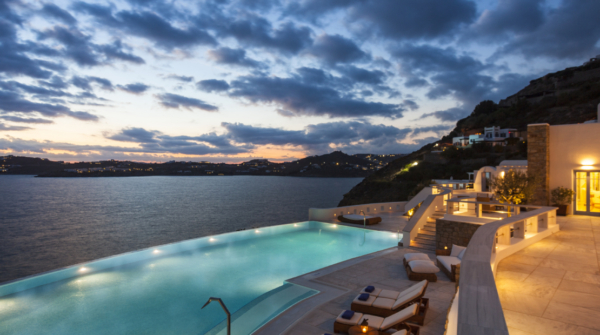 Best villas in Mykonos for large groups:
12-person Villa Athena
AGL Luxury Villas has several other properties that are equally impressive for large groups. Villa Athena is a magnificent 12-person capacity villa that features stunning interiors, luxurious amenities and breathtaking views.
This villa, like the others, is situated in Agios Lazaros, a serene and exclusive location that offers privacy and tranquility while still being close to the island's vibrant nightlife. The villa's outdoor spaces are perfect for enjoying the spectacular views, with a private infinity pool, sun loungers and shaded dining areas.
The villa itself is spacious and tastefully decorated, with high-end furnishings and a state-of-the-art kitchen, while bedrooms are comfortable and cozy, with en-suite bathrooms and balconies that offer incredible views.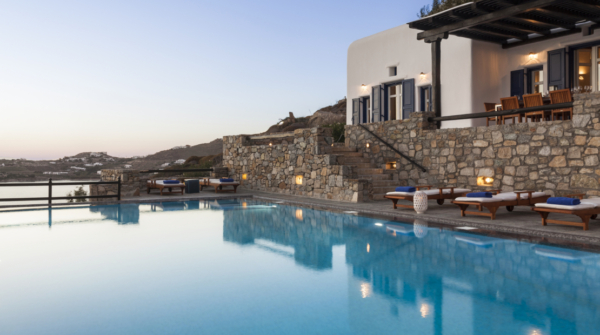 Best villas in Mykonos for large groups:
10-person Villa Pinto
Villa Pinto, a luxurious 10-person capacity villa located in Agios Lazaros, is ideal for those who seek privacy and seclusion, while still being just a short drive away from Mykonos town. The villa's outdoor spaces are simply stunning, with a private infinity pool, a Jacuzzi, and multiple seating and dining areas. The interiors are just as impressive, with a spacious living room, a fully equipped kitchen, and five lovely bedrooms, while the villa's decor is a perfect blend of modern and traditional elements, creating a warm and inviting atmosphere.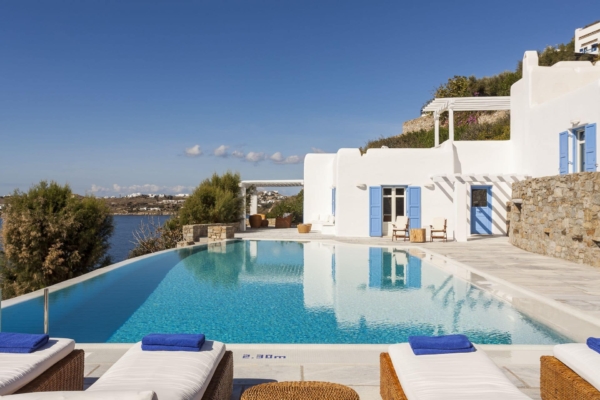 All villas offer exceptional amenities and service, making them ideal for families and larger groups. The villas are fully staffed, with a private chef, housekeeping, and concierge service, ensuring that your stay is comfortable and hassle-free. The villas are also equipped with the latest technology, including high-speed Wi-Fi, satellite TV, and state-of-the-art sound systems.
In addition to the amenities offered by the villas themselves, AGL Villas also provides a range of additional services to make your stay in Mykonos even more memorable. The villas can arrange for private yacht and helicopter charters, personal trainers and yoga instructors, as well as car rentals and transfers. The concierge service is available 24/7, ensuring that all your needs are met during your stay.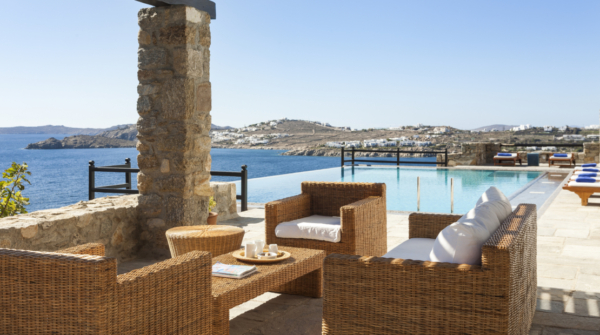 So, if you require (or desire) spacious quarters for your next Mykonian escape, AGL Luxury Villas offer a range of the best villas in Mykonos, giving guests a series of luxurious properties to choose from, depending on specific preferences.