If you have been wondering if Mykonos is suitable for families, then the answer is a big yes! The renowned party reputation of the island is the reason behind the assumption that Mykonos is only for singles, groups of friends and those who wish to experience the high-end nightlife it is known for. It still is very much about that, however, that does not mean that a family can't have an amazing time in Mykonos, provided they make the right choices to fulfill their needs. Besides its fast-paced entertainment scene, Mykonos has a huge luxury element that comes across almost effortlessly; now add its phenomenal natural beauty, it makes for an ideal destination for a plethora of stay experiences. Ultimately, Mykonos is your oyster, whether you've come to party till the sun comes up, enjoy family togetherness on a luxury island retreat or combine the two!

Let's see how to ensure that your next getaway to Mykonos is suitable for families. 

Where to stay: Family-friendly villas in Mykonos 
Choosing the right location and setup for your family stay in Mykonos is crucial. Families will tend to want to stay fairly close to the town, but far away enough to enjoy peace and quiet. Agios Lazaros is just that place, where the Mykonos luxury villas of AGL are located, sheltered from the winds and boasting some truly spectacular views of the surrounding landscape. Ideal for those who seek a VIP stay experience, these villas offer privacy, autonomy and seclusion within a safe and monitored environment in which to fully unwind as you recharge, without a care in the world. Furthermore they are immensely spacious and flexible. Our smallest villa starts from a capacity of 6 people, while our biggest villa can host up to 16 people. This makes them perfect for any small to large family gathering as the place to harbour precious moments of togetherness in a peaceful and tranquil setting.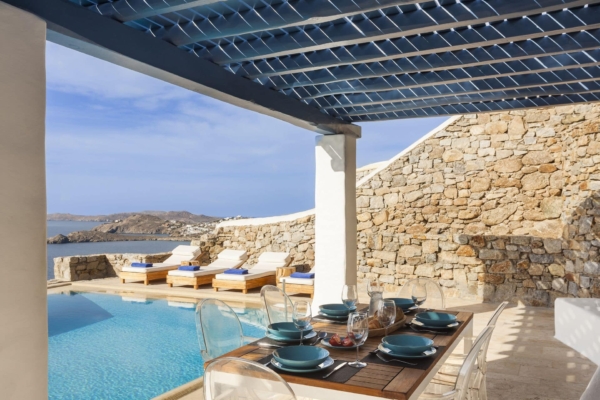 VIP Services: Arranging your day-to-day in Mykonos
Staying at one of our Mykonos luxury villas, comes with VIP service perks. We have an exclusive concierge service that helps guests on how to best spend intentional, quality time during a luxury retreat to the island of the Winds. We can arrange your private transfers by land, sea or air, with luxury vehicles, yacht charters and helicopters. We can organise tours and excursions based on your desires and preferences plus many other in-villa services such as a private chef, various wellness therapies, personal training and a plethora of beauty treatments, make reservations on your behalf as well as provide medical support around the clock.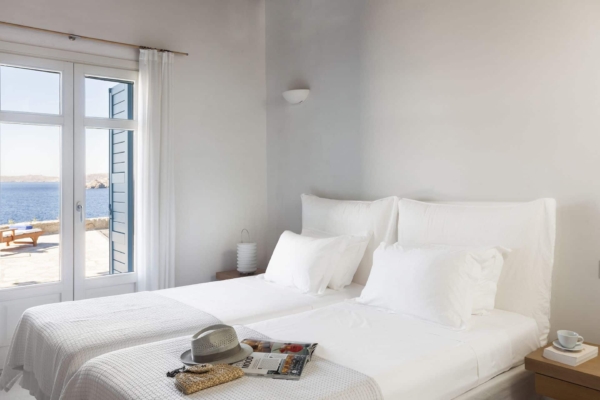 What to do: Family-friendly activities in Mykonos
Now that you have chosen the right family-friendly villa in Mykonos for your family getaway, let's take a look at all the exciting things to do that the entire family can enjoy. 
Chora, Little Venice & Windmills – Saunter around the iconic center of Mykonos, the Chora and the pedestrian pathways will lead to the iconic Little Venice just before you arrive at the impressive old Windmills that are graciously lined up on the opposite side of the bay.
Naval & Folk Museums – As you traverse the cobblestone streets of Chora, discovering the charm of past island life presented in a luxury wrapping and inspired by the contrast of architecture, you can easily make your way towards two museums which kids will definitely find interesting

Kid-friendly Beaches – Kalo Livadi, Platis Gialos, Agios Ioannis, Agios Stefanos are all lovely beaches in Mykonos that are suitable for children either due to their shallow waters, sheltered location or organised facilities.
Snorkeling & Diving – If you are enchanted by the underwater world, then do not miss a chance to snorkel along the surface or dive into the depths of the Aegean sea and why not witness the astonishing shipwreck of Anna II.
Go Karting, ATV excursions, Sea kayaking, Mountain biking – For families who love the adrenaline rush that comes with a bit of adventure, Mykonos lends itself for all sorts of activities that combine excitement with sightseeing of the island's landscapes.  
Open air cinema – For those summer nights that need an extra bit of entertainment, and why not a dose of magic, in Mykonos town you can watch films under the stars.
Visiting an organic and animal farm – An alternative experience most families will enjoy as a group is a visit to an organic vegetable and animal farm. It will make for a wonderful day out, learning about vineyards, how produce grows and how animals are properly kept.
Family cooking class – One for families who love exploring the culinary arts together, a family cooking lesson can be both fun, informational and result in a fantastic feast of local flavours!
Island excursions –  Finally one that invites your inner explorer to take the lead, discover the beauties of Mykonos and neighbouring islands such as the mystifying Delos and many more, by private yacht or catamaran.
Have you visited the island of the Winds with your family? If yes, we hope you enjoyed it to the fullest. If not, why not consider it for your next getaway? Since Mykonos is suitable for families, provided you make the aforementioned family-friendly choices.