Have you chosen Mykonos as your holiday destination and now are considering all the options on how to get to Mykonos island? There are a handful of ways, depending on your starting point. Typically, you can get to Mykonos by the most conventional means which are by airplane and by ferry. However, being such a popular destination that attracts many jet-setters, some might prefer a more private and exclusive method of reaching the island of the winds. Here we give you all the available options on how to get to Mykonos, so that you can be well-informed before you make your decision on how to reach us at AGL Luxury Villas.
How to get to Mykonos by air:  Save valuable travel time
Via Airplane
You can get to Mykonos by taking a direct flight from Athens, the duration of which is just 45 minutes. It is the easiest and quickest way to get to Mykonos from Athens. Unfortunately, there are no direct flights that connect Mykonos to other Greek islands; they all stop over in Athens before reaching Mykonos and only economy seats are available. Alternatively, due to the island's popularity you can get to Mykonos via direct flight from the following European cities, listed alphabetically: Amsterdam, Barcelona, Bari, Bologna, Cologne, Florence, Geneva, Lyon, Manchester, Munich, Naples, Nice, Paris, Rome, Stockholm, Venice, Vienna, Zurich and, as well as others.
Via Helicopter
For those who seek a touch of the exclusive, at AGL we understand your desire exactly. That is why we have built a helipad within our complex so you can zip in and out entirely uninterrupted, without having to lift a finger. Forget getting to and from the airport as well as all the queues, charter your helicopter and arrive directly to our Mykonos luxury villas. In doing so, you will be able to witness enthralling aerial views of the landscape below that very few the privilege of seeing. If you would like us to assist in getting a helicopter charter for you, simply reach out and let us know.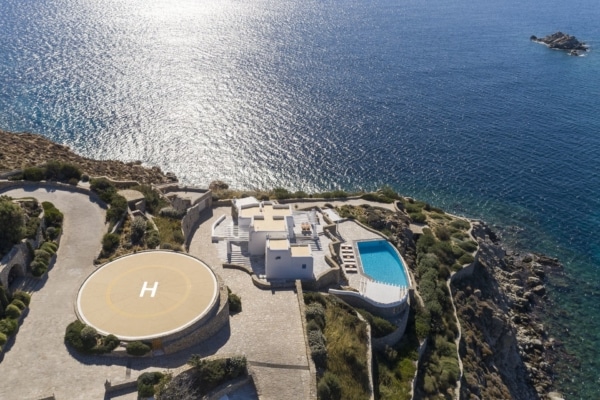 How to get to Mykonos by sea: Enjoy the full length of the journey
Via Ferry:
Ferry connections from the major ports of Piraeus and Rafina in Athens to Mykonos, run on a regular basis. They typically stop to other islands on the way as they drop off and pick up other passengers on route. You can find all the options available by a simple search online, entering your starting point and Mykonos as your destination. There are a few companies that have competitive rates, and there are usually two options. The fastest vessels that get you to Mykonos in around 2,5 hours from Piraeus, and slower vessels which can take up to 5 hours, which are of course more affordable than the fast alternative. Ferries also connect most islands to Mykonos, such as Santorini, Paros, Naxos, Ios and others among the Cyclades cluster, but others as well such as Lesvos, also called Mytilene, Crete to name a few.
Via Yacht:
Some guests may want to experience journeying to Mykonos by sea, but want to avoid the crowds and queues associated with regular ferry transfers. If this sounds like you, then you'll be pleased to know that you can easily get to Mykonos via yacht, catamaran or motor boat. This would have to be another private charter and length of journey and cost is dependent on factors such as starting point and choice of vessel. Once you have booked your private charter, you can arrive directly to AGL Villas by sea and dock at our private jetty. Similarly, as with a helicopter charter, passengers will experience an exclusive sea journey to the desired destination, filled with spectacular visuals along the way.
However you choose to get to Mykonos, be sure that if you have chosen to stay with us, it will only be the beginning of what you might call an incredible holiday.