Mykonos in September and October is the savvy traveller's Mediterranean dream. Especially in a post-Covid world, where the party scene is less of a hot topic for those who wish to be diligent and maintain social distancing, the island of the winds is most definitely best enjoyed during the season of Autumn. Visiting Mykonos in September and October is nothing short of absolutely enchanting, as you will soon find out that the notorious nightlife element is only but a small part of its timeless charm.
Why Mykonos in September & October?
Visiting Mykonos in Autumn offers you a chance to discover the more genuine side of this popular island destination. Avoiding the hype of peak summer means you can experience the more genuine, more meaningful side of the island. Autumn brings with it cooler temperatures, less Meltemi winds and of course, fewer tourists. The sun is gentler than in the previous months, shining softer lighting for some truly spectacular photos. The island vibes are slowly winding down, returning back to normal for a slower-paced, unrushed holiday experience.
Autumn is more suitable for those seeking this kind of a holiday experience; one that is ever more rewarding and leaves more lasting impressions than the usual highly-strung, fast-paced holiday experiences that most people tend to consume today. And at our Mykonos private luxury villas, your serenity and peace of mind is guaranteed in a spectacular location where holidays are nothing less than soul-fulfilling. So, if you are considering visiting Mykonos in September & October, here is a list of the top things to do during your stay.
Top 5 things to do in Mykonos in September & October:
1. The sublime beaches –
Peak summer means the most beautiful beaches of Mykonos are incredibly popular. Therefore, it may be challenging to secure a sunbed on the most sought-after ones. Less crowds typically mean you can find a sunbed more easily, plus it means you can more easily relax under the sun, listening to the lapping waves as they caress the shores with less hustle, bustle and murmur to drown the soothing sounds of nature. Families visiting Mykonos can opt for Platis Gialos, Ornos or Kalo Livadi, while couples usually choose Psarou. As for a bit of vibrancy and up-beat music, Elia, Paradise and Super Paradise beaches are guaranteed to lift your spirits and keep them high.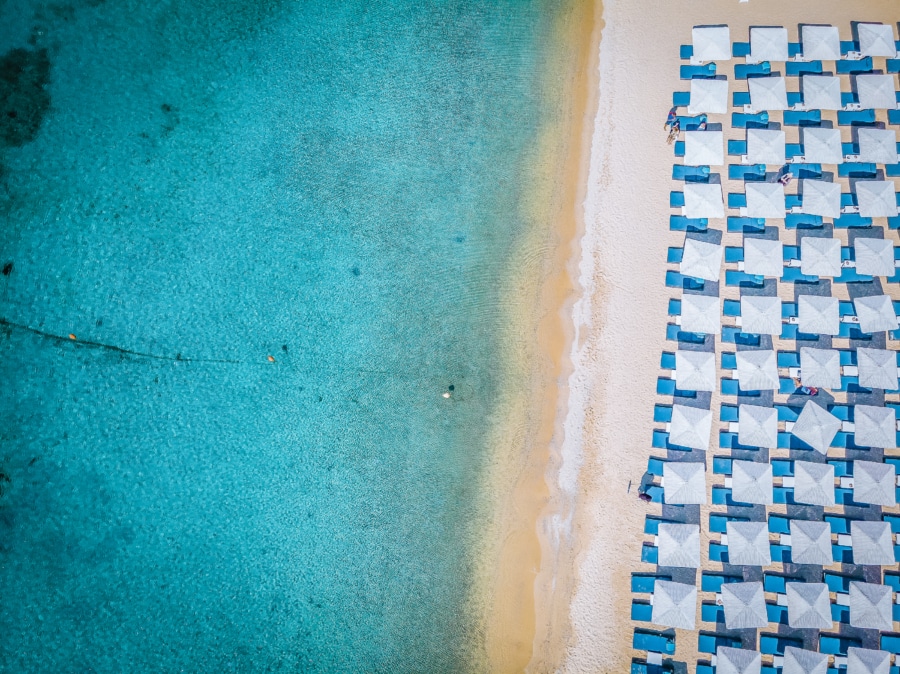 2. The fascinating environs –
Much of the tourist focus is placed on the inland part of Mykonos island. However, in doing so, much of its beauty remains unseen, or rather overlooked. Exploring the splendid coast of Mykonos by yacht or motor boat reveals visuals of indescribable beauty presented from a unique vantage point. Those who make the decision to explore the island by sea will tell you that it is a priceless experience and would do so again and again. That way you have total freedom of movement and choice to set your schedule exactly according to your preferences, anchoring where you desire with the option of being taken ashore too. Be sure to add the neighbouring sacred island of Delos and that of the peaceful Rheina to your itinerary.
3. The legendary Mykonos town –
Of course one of the quintessential things to do is to saunter around the legendary cobblestone streets of Mykonos town. Once a demure and modest fishing town, now a jet-set location packed with a multitude of high-end restaurants, bars and shops, Mykonos town is indeed a seductress any time of year. Yet the crowds it gathers during peak summer months often detract from its charm. Visiting Mykonos in September and October means the streets are less packed, so you can focus on observing the surroundings rather than being mindful of not running into other people as you do so. Observe the town's cubist, white-washed houses with their colourful doors and windows, typically blue, green and sometimes red.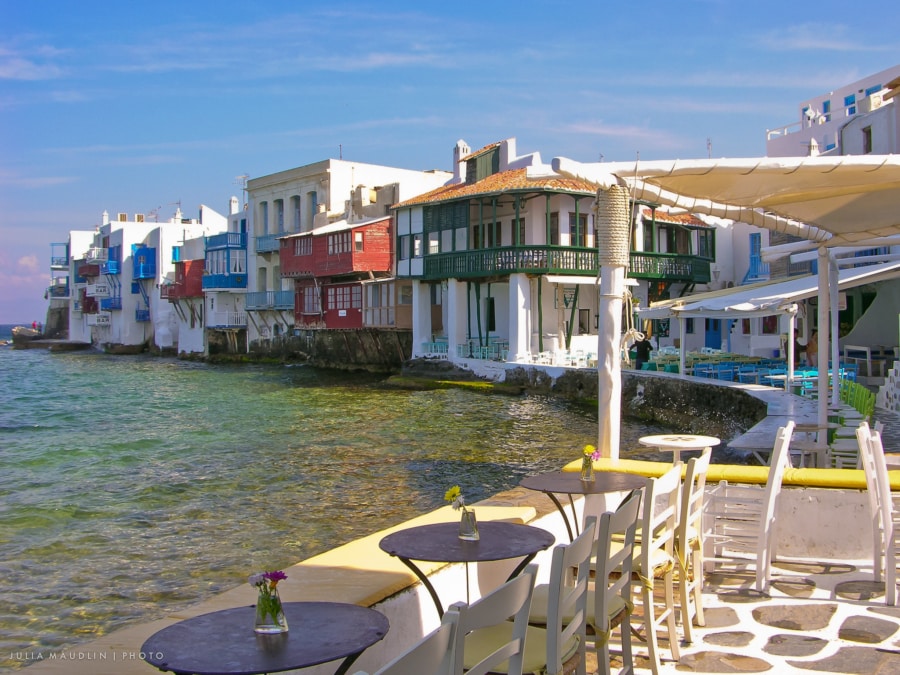 4. The iconic landmarks –
A photograph opportunity lies almost everywhere in and around Mykonos town. Yet you will realize that the most iconic landmarks command your admiration instantly and in a most disarming way. As you make your way towards Mykonos town by foot, you cannot miss the impressive church of Paraportiani. It is, after all, the most photographed church of about 600 chapels to be found on the island. Then you will reach the famed Little Venice, the best place to enjoy a dinner or drink and especially during sunset. Further along your line of sight, you will witness the famous array of windmills for the most picturesque frame imbued with the absolute essence of the Cyclades. Don't miss Armenistis Lighthouse and its inspiring, panoramic views by taking the road towards and beyond the settlement of Agios Stefanos.
5. The quaint villages –
Dare to venture beyond the center of the town and you will discover the more bonafide side of Mykonos. It is in these villages where the island's genuine culture lies in plain sight; it is where the locals live, away from the tourist buzz that today seems to define Mykonos town. Ano Mera should be the first one on your list; greatly retaining its traditional character, it is definitely worth exploring for a taste of authentic island life. Tourlos, Fanari and Agios Ioannis follow, equally rewarding locations to explore if it's a more alternative and immersive cultural excursion you are looking for.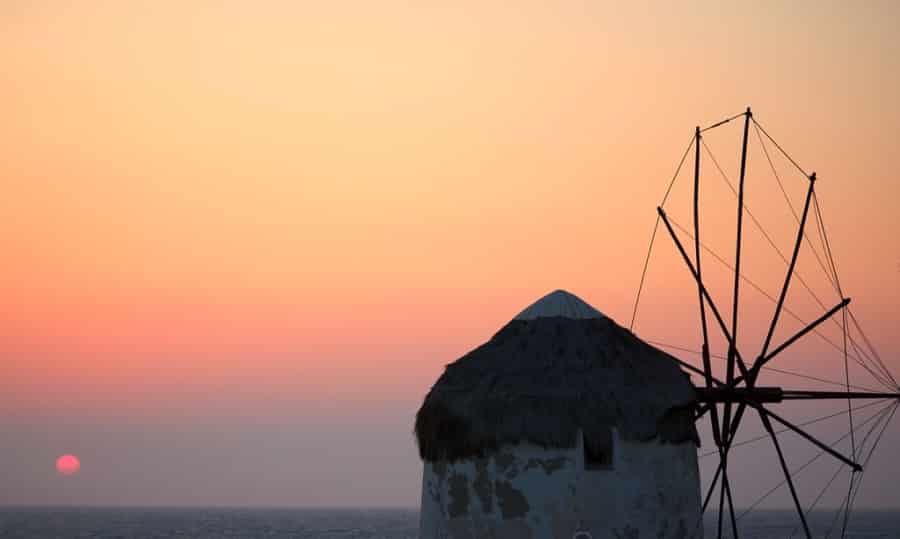 Overall Mykonos in Autumn gives you and your chosen ones ample time to relax, revel and satiate your soul till your heart's content. With over 300 days of sunshine per year, it remains a unique place to visit for a holiday even well into October, that will remain etched in your mind for years to come.