Get on the Mykonos bandwagon and explore this mythical island. Its famous nightlife, amazing beaches and traditional Cycladic architecture are what draw people in. But it is the breathtaking sunsets, picturesque landscapes, and intimate atmosphere that keeps them coming. And contrary to popular belief that Mykonos is just about partying, you'll find more than one romantic nook or cranny in which to live your myth. So, whether you're celebrating a special occasion or just want to have fun with your other half, heed these words: The island is one big love-in and you're invited. That said, let's take a look at some ideas on how to spend a romantic night in Mykonos.
Ideas for a Romantic night in Mykonos:
     1. Sunset at Little Venice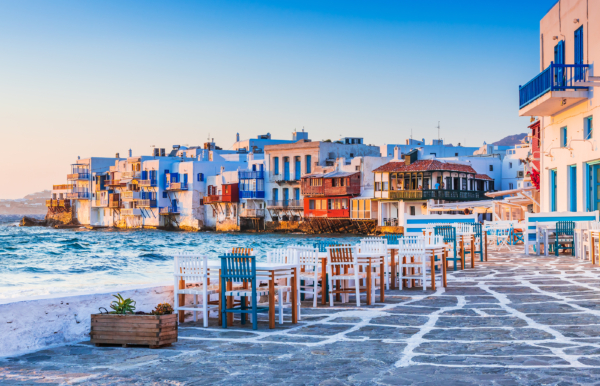 Begin your evening by strolling hand in hand through the narrow, winding streets of Mykonos Town, just 5km from your tranquil sanctuary at AGL Luxury Villas. Make your way to the enchanting neighbourhood of Little Venice, known for its picturesque waterfront lined with colourful old houses. Grab a prime seat at one of the waterfront bars and prepare for some people-watching on the promenade, with cocktail or wine glass in hand, while you watch the sun slowly dip into the big blue. The magical hues of the sky reflecting on the Aegean Sea will create a truly romantic ambience to share with your other half.
    2.Private Dining
To further amplify your romantic experience, consider arranging a private dinner on one of Mykonos' stunning beaches, along its waterfront or at the comfort of your private terrace. If you prefer to dine out, there is no shortage of upscale establishments that will be happy to accommodate you in this. Dining near the water, with the bright stars as your chaperone, is an experience not to be missed.  Enjoy a candlelit dinner featuring delectable Mediterranean cuisine, accompanied by the gentle sound of waves lapping the shore. The combination of a sumptuous meal, the soothing sea breeze, and the soft glow of candlelight will create an unforgettable romantic atmosphere.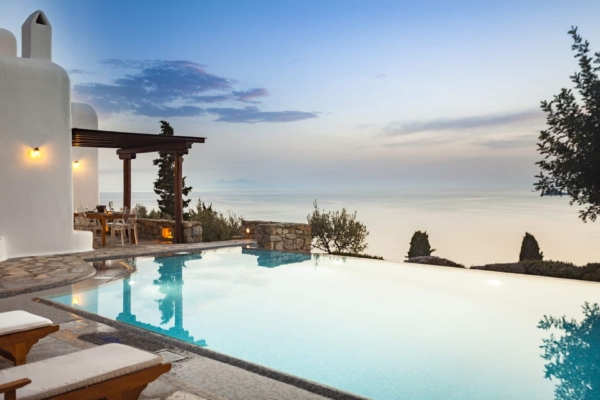 Alternatively, you can make use of the extensive facilities that AGL Luxury Villas offer to create your world of romance in your chosen one of our best luxury villas in Mykonos. If you can't seem to break away from the tranquility of your sky-meets-sea private terrace poolside, we can get a private chef in to rustle up an amazing meal for two. Naturally, you have first say in terms of the menu and can ask for something particular. Of course, those who view cooking together as a couples bonding experience, you can arrange that too. There is something about cooking with your loved one that instantly brings out the best of you, and Mykonos' Dionysian energy is a catalyst for that.
    3. A Sailboat Cruise
If you and your other half have a bit of an adventurous side, a great idea is to book a private sailboat cruise around Mykonos. The invigorating sea breeze will instantly lift your spirits and rev up the excitement for all that comes next. You can take a full-day cruise to soak up the sun, dive into the waters and enjoy a lazy day at sea. Alternatively, you can take a sunset cruise to also combine the magic of the hour with your sailing activity. Once on board, help yourself to some champagne and embark on a romantic trip around the hidden coves and off-path beaches, as you take in the stunning scene that the Aegean sets for you. This intimate and peaceful experience is sure to create cherished memories.
    4. Night-time Walk in Mykonos Town
After your sailboat cruise, return to Mykonos Town and take a leisurely night-time walk through its enchanting streets. The town becomes even more alive at night, with its narrow alleyways adorned with romantic lanterns and bustling with energy of passersby. Saunter around hand-in-hand, soak up the electrifying ambiance and decide on the spot where you want to stop for a drink. Walking through the famously narrow streets of Mykonos Town is akin to a glamour catwalk, so indulge or participate in this spectacle as you amble about the designer shops, souvenir places, bars and exclusive boutiques.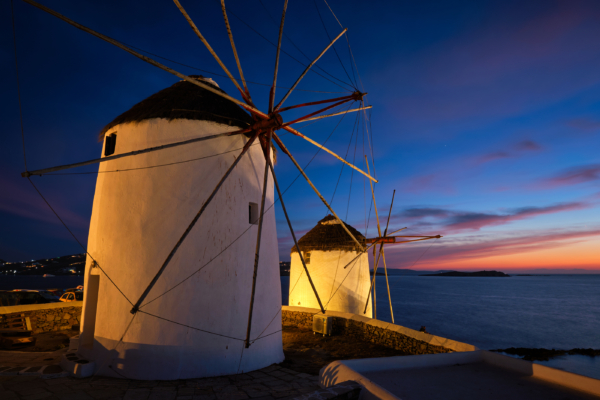 5. Live Music and Dancing
To end your night on a high note, immerse yourself in the notorious Mykonos nightlife. You will find many up-scale bars and exclusive clubs with well-known DJs ripping out the hottest beats, and others that feature live music performances, ranging from traditional Greek music to international hits. These are a great alternative for a quieter night of fun, if that's what you prefer. Find a cosy spot at a bar or taverna where you can enjoy a drink and sway to the melodies. If you feel like you've got more to give, head over to one of the island's glitzy nightclubs and have at it till dawn. Let the lively beats and electric atmosphere sweep you and your partner off your feet, creating memories that will last a lifetime.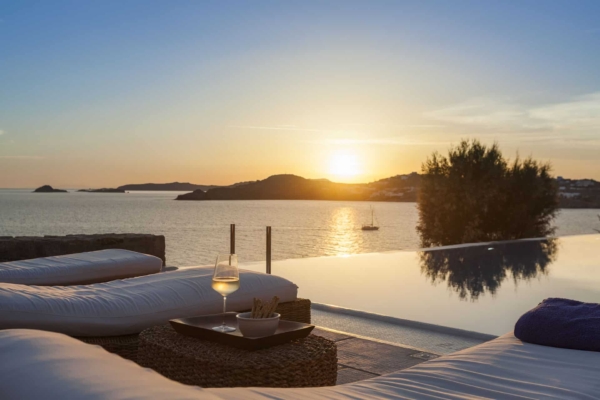 Remember, the key to a truly romantic night in Mykonos is to savour every moment and immerse yourselves in the island's captivating beauty and vibrant ambience. Whether you choose to watch the sunset, dine on the beach or your private terrace, sail to secluded spots or dance until dawn, Mykonos offers the perfect setting for a night of romance and enchantment. Let the island's allure ignite the spark between you and your loved one, creating a magical experience that will forever be etched in your heart.
If you want to assistance in pulling off the most romantic night in Mykonos ever, simply reach out to us. Our Mykonos private luxury villas come with services that include making all the necessary arrangements, on your behalf.